Сomprehensive development of the brand for potatoes.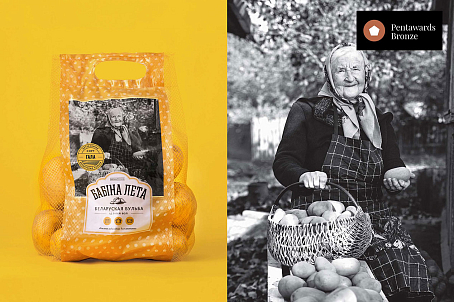 Brief
The project received the bronze Pentawards. The basis of the solution is the author's photographs of belarusian grandmothers in situations related to the cultivation and preparation of potatoes.
The product is the Belarusian grown high-quality potatoes. The goal in trademark development was to emphasize the manufacturer's diligent approach to the business, create an image of a selective and grown with love product, and differentiate the product on the shelves.
Decision
We had no doubt that the brand will be nationally oriented: Belarusians are famous not only for their love of potatoes but also for their knowledge, experience, expertise in growing and preparing this product – work that had become a sacred tradition for many generations.
The Belarusian name Babina Leta" (Indian Summer in English) tells of a beautiful period in the early October when for a few days or sometimes for a week, summer returns - a period at the end of the potato harvest.
The main style-forming elements of the design concept are black and white photos of brand characters – grandmothers from villages as carriers of tradition, experience, knowledge and love. Their images support the name and together with it reflect the main ideas of positioning – true knowledge and sincerity. Importantly, the photos taken by the agency's photographer did not include any actresses, but real Belarusian housewives in their daily lives, those related to the cultivation and preparation of potatoes. Names and portraits of grandmothers on packages become the real promise of high-quality of the product. And to further emphasize the idea of expertise, we created a package filled with information, showing helpful potato characteristics, recommendations for cooking different types and including recipes of established traditional dishes.
Let's talk about the strengths and weaknesses of your brand