Vibrant, organic superfood energy-wellness brand.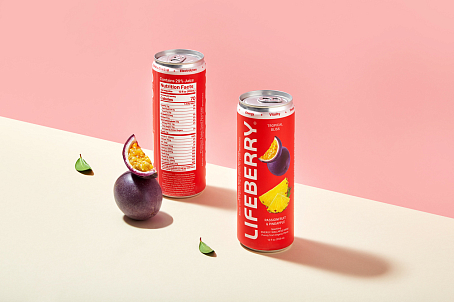 Brief
Lifeberry is an American brand born in Los Angeles, California. It is a healthy, organic green tea-based energy drinks inspired by a culture of healthy living. This rejuvenating product offers multiple health benefits and exotic flavors: blueberry — chaga, blood orange — goji, pineapple — passion fruit, peach — cloudberry.
The brand already had a name, a mission and values. We had to develop an identity and package design, which would help to reveal the idea.
Decision
Fabula Branding created Lifeberry`s identity and package design based on brand values, naturalness, and unique combinations of ingredients. The agency helped the product take the functional beverage niche for "energy" and "healthy" drinks.
The Lifeberry logo conveys balance: it combines the classic grotesque font and plastic elements. The packaging design is based on sizeable vertical typography and massive photos of ingredients that make it easy to read. The brand's juicy, rich palette reveals the vibrant flavors of each item, and the infographic elements reveal the beverage`s health benefits.
Let's talk about the strengths and weaknesses of your brand