Al Dente on DesignRush Marketplace
DesignRush Marketplace
recognized Al Dente logo the Best Food & Restaurant Logo design.
Al Dente specializes in homemade Italian food. The cooking is fast due to the simplicity of recipes and excellent taste is guaranteed by the quality and combination of ingredients. The menu was developed by the famous Italian chef Ignacio Rosso.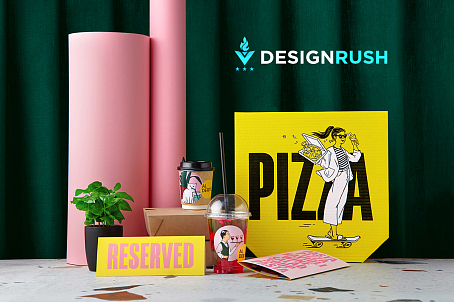 Fabula Branding had to create a visual image emphasizing the laconic and comfortable nature of a modern bistro and at the same time showing the light and cheerful Italian character. A laconic logo helps the customers easily identify and remember the bistro. The contrasting combination of black and yellow colours makes it visible, and a styled evelent refers to pasta - the specialty of the cafe.
The logo supports the universal and minimalist corporate style that can be used to brand any media, from product placements to the uniforms of the staff. Customized sketch-like illustrations help the customers feel the atmosphere of Italy. Located in the areas with the best lighting as well as in the entrance area, they attract attention without overloading the visitors with information. The same illustrations are used in the design the the menus, pizza and pasta packages, stickers, and colouring books for the children. All points of contact with the brand help the customer get fully submerged into its atmosphere. Traditional attractive photo style images of the dishes are used in the design of lightboxes. As a finishing touch, the team of Fabula Branding chose the music and videos for the bistro themselves.