Salatica for salad: canned food packaging design.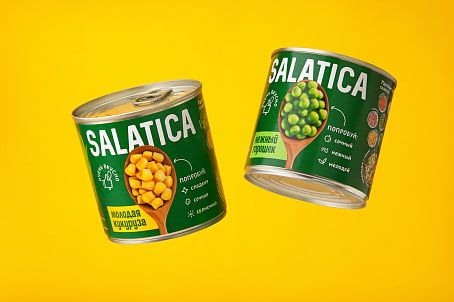 Brief
Caravan Cumberly decided to create a new brand of canned vegetables — Salatisa (peas and corn). A modern and attractive packaging design had to be developed.
Decision
Canned peas and corn are most often used as an ingredient for salads and other dishes, which was already reflected in the name. Fabula Branding further developed this idea in the packaging design.
Appetizing, minimalistic photos of the product in a spoon are the basis of the composition. The juicy palette based on the combination of green and white colors creates a laconic and modern image of TM. Large typography of the logo does not draw attention to itself and at the same time works for brand identification. Infographic elements create a color and semantic accent, making the overall solution more interesting and bright.
Let's talk about the strengths and weaknesses of your brand