The story of one restaurant chain.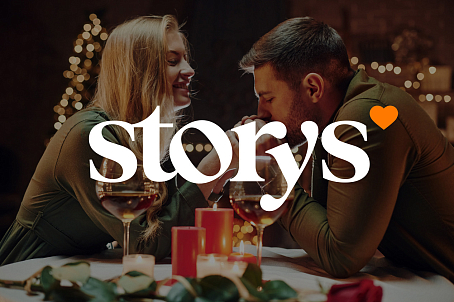 Brief
Storys is a new chain of fast casual restaurants. The brand separated from the well-known Andy's franchise to become a "delicious story restaurant" for the whole family.
Fabula Branding had to create an identity that fully conveys the character and mood of the chain.
Decision
A place where you want to go with your family every day, filled with warmth and care. In such an atmosphere you want to relax together with your loved ones, enjoying delicious food and sharing personal stories. This hugge-image was the starting point for the agency, creating the logo and corporate identity of Storys.
The combination of minimalism and stylized "kraft" details in the design helped to convey the individuality of the restaurant chain. The heart sign, which serves as an accent and makes the design more emotional, became a style-forming element of the identity.
Plastic antiqua is used in the logo, forming a peculiar pattern. The slanted "o", "intertwined" r and y translate comfort - as if all the letters take natural poses, just like people during friendly communication.
The basic palette is built on a combination of white, orange and black colors, presenting the brand as confident, bright and modern. An additional scheme involves the use of shades of beige and accent green, emphasizing the cozy atmosphere. The agency team branded pizza and dessert boxes, transportation, bags and cups. They also created a logo book for the client's successful independent work with the Storys brand.
Let's talk about the strengths and weaknesses of your brand